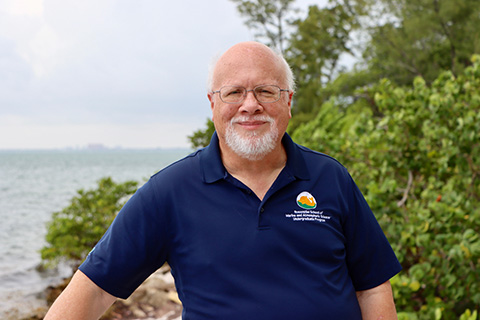 Welcome to one of the oldest and best known marine undergraduate programs in the nation.
The Rosenstiel School has offered undergraduate education in all facets of marine science since 1977. In addition to our longstanding double major programs in marine science, we offer strong programs in meteorology, marine affairs, and geological sciences, as well as exciting new single major options in marine biology and ecology, and oceanography. Here in Miami, our faculty members and researchers are tackling some of the most pressing problems facing our world today, including subjects of local importance such as sea level rise, hurricanes, coral reef health, and conservation of marine resources.
Undergraduates in our programs are introduced to the complexities of the ocean, atmosphere and solid earth through lectures, laboratories, and field courses, and have the opportunity to be involved in cutting-edge research that can contribute to real world environmental solutions. All of our programs emphasize experiential learning, taking students into the field and providing diverse opportunities for scientific discovery, from research-intensive courses to independent study working alongside faculty and graduate students on the frontlines of new knowledge. Our rigorous curriculum is designed to take full advantage of the University's subtropical location, with year-round access to a variety of specialized marine environments including the deep ocean waters offshore, the coral reef tracts of the Florida Keys and Caribbean, and the estuarine sea grass beds and mangrove shoreline of South Florida. Our students are energized, committed to excellence, and have demonstrated their capacity for innovation and creativity.
We invite you to join us in this important work and look forward to welcoming you into our community of scholars as together we address global science challenges and innovate to create a brighter, more sustainable future.
Larry C. Peterson
Associate Dean of Undergraduate Education